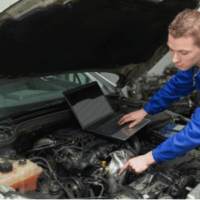 Choosing a Certified Auto Repair Shop
Posted on

December 16, 2019
In an ideal world, ASE certification, or choosing a Certified Auto Repair Shop, is important and every car owner's right when it comes to auto repair and maintenance.

Yet we live in a world where many people are unaware of the importance of this certification. This is why so many cars in Gainesville, Florida are taken to non-certified mechanics for auto repair every year.

Question: "Why did you turn down that nice mechanic who wanted to fix your car for half the market price?"
Answer: "Unfortunately, he wasn't ASE certified… Nothing but the best for me and my car!

ASE Certification – How It Helps Your Car
It stands for the National Institute of Automotive Service Excellence, the goal of this non-profit organization?

The institute, as well as the certification, aims to protect the automotive service consumer, the shop owner, and the auto repair mechanic.

Increased Cost-Effectiveness

How finding a certified auto repair shop help the average car owner looking for a reliable mechanic nearby? In addition to being well versed in recent automotive repair and care developments, ASE certified technicians and auto repair shops also provide outstanding cost-effectiveness.

Highly professional and well trained, ASE certified auto repair technicians ask for standard and reasonable rates.

Highly Competent and Reliable Auto Repair

Additionally, ASE certified mechanics are competent and experienced in their industry as well as the specific specialization. You will get high-quality service and uncompromising results every time you visit Smitty's auto repair shop. This prevents additional repair and maintenance in the near future.

Ethics and Trustworthiness

Choosing an ASE certified mechanic to fix your car is a good decision because the professional will be dedicated and responsible for the job.

Do you want help searching for a reliable ASE certified auto repair technician in your area? The following tips will prove helpful:
Ask friends and coworkers for their recommendations

Look out for a well organized and professional looking facility

Ask for policies regarding diagnostic fees, guarantees, labor rates and accepted methods of payment

Ask if a particular auto repair shop specializes in your car model

Ask for evidence regarding technician qualification such as trade school diplomas and certification by ASE
Anyone with very little car repair skills can pick up a wrench and call himself a mechanic! Don't be fooled when it comes to selecting the right technician for your car's repair and maintenance.

Bring the job to us… Smitty's Auto Service will make sure your car receives the attention and care it deserves! Call us today!

Author: autoshop-dev
 
Next: How to Find a Reliable Mechanic near You
Previous:  What's The Reason for That Squeaking Sound in Your Car?