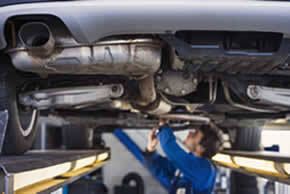 The History of Smitty's Auto Service
"Berrisford Smith, Owner of Smitty's Auto Repair Service, has found satisfaction and success since striking out on his own…." That was the caption under a large photo of Smitty standing in his shop, posing for The Gainesville Sun thirty one years ago. A lot has changed since Smitty graced the front page of the newspaper's Business & Careers section, but his sentiments remain the same.
Smitty spent nearly a decade working as an Auto Technician for the then local VW Dealership before deciding to open his own auto repair service, friends and family worried, With a young family, a new home, and other responsibilities, should he assume the many risks of business ownership? They didn't worry for long..

Smitty opened his repair shop with just one lift, a couple of floor jacks, and his regular hand tools, he was his own lead technician, parts buyer, and customer service representative.

Ask Smitty which tools he relied on most, and he won't name anything that fits in a tool box, Instead, he talks about his eagerness to succeed, his focus on satisfying customers, and the assistance of a very dear friend, Mrs Hanalore Callahan who handled company paperwork three days a week so Smitty could concentrate on running the shop. Additionally, his daughter Surinda, who was only (12) years old at the time, lent a helping hand during summer breaks, assisting with parts ordering and and other office duties.
It didn't take long for this dynamic trio to get Smitty's Auto Service driving toward the highway of success. it took only a matter of months for the shop to double its client database, Just seven months after opening his door, Smitty had to hire help in order to meet the demands of his ever-growing client list. "Hiring that first technician, the late Cliff Caughlin, made a world of difference", explains Smitty, "not only were we able to get more work done, I was able to spend more time with customers, explaining what was wrong with their cars, and what was needed to repair them" Two years after opening, Smitty's Auto Service, we converted from hand written tickets to computerized repair orders which allowed us to maintain a more accurate customer service history.

Smitty's focus on honesty, clear communication and superior customer service has always been the cornerstone of his business. He proudly explains "some of my first customers were college students from the nearby University of Florida who now have kids of their own, and they still come to us for their Auto service and repair needs." Smitty inspires loyalty not just in his customers, but his employers as well, For example, Mrs Hanalore Callahan who made such an important contribution in getting the business off the ground, worked with him for over (19) years. Before retiring, she personally trained Surinda to take on the necessary company paperwork responsibilities.

As his clients' families have grown. Smitty's Auto Service has also seen a significant expansion. The shop now employs (3) full time auto technicians who have access to the Alldata Information Center, (5) lifts, a brake lathe, and state- of-the art diagnostic tools for Volkswagen and Audi plus many special tools that would be found only at dealerships, Smitty's also carries a sizeable in house auto parts inventory.

And (31) years later, Smitty is still going strong, even after (16) months of dialysis and a kidney transplant from his daughter Surinda, over (10) years ago. Drop by the shop, and you'll still find Smitty communicating with his customers, assisting with repair diagnostics, performing quality control checks, and transporting his customers anywhere they need to go in the Gainesville area.. He even provides his own personal pick-up service for customers when their car repairs are completed.

As the newspaper article stated twenty nine years ago. Smitty has indeed found success and satisfaction as a business owner. To quote him today. "My thanks go to our customers and our employees who have participated in this wonderful journey so far. As for me, I am still loving every minute of it."

In fact, love is everywhere you look at Smitty's Auto Service, from his daughter Surinda who manages the office; to the mutual appreciation he shares with his customers and employees; to his fatherly concern for today's college students who are often many miles away from home and facing the daunting need for car

Honesty and Trust Bring Our Customers Back
BBB Rating A+   
          Click for BBB Profile
What Our Customers Are Saying
"

I came in with no appointment, after going to 3 other shops nearby, they gave me the best quote, and said they could fix my Honda that day! Staff was also friendly and courteous! I'll be back if I need anything else! Thanks."



Thanks. Michael Faucher, April 2020
"Smitty is one of those guys you meet who you know is authentic. His tech found some real concerns in my car without making up problems. Smitty even gave me a ride downtown so that I could catch the farmers market while he worked on my car. What a guy!"

Kane P.
 
"Excellent business ethics, I got to the shop was approached quickly and accurately told them what I thought was wrong, they diagnosed and fixed the issue in a timely manner. I highly recommend this shop to anyone with a Volkswagen! Thanks to everyone at the shop."

Manny Rodriguez, April 2020