VOLKSWAGEN SERVICE & REPAIR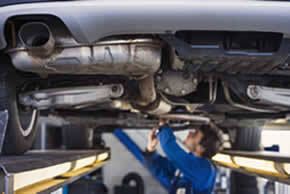 Volkswagen Repair Gainesville
There's something about a Volkswagen that sets it apart from other vehicles. It's the symbol of incredible beauty, utter sophistication and powerful German engineering. It's in a class all of its own.

From the launch of their first vehicles (the VW Bugs) to the amazing GTI and Passat, the company has become synonymous with reliability, stylishness, and fuel efficiency.

The company also has the honor of being one of the few car manufacturers to still have their older models in use today. In fact, it's not unusual to see a Beetle or Microbus on the road.

If you're the proud owner of a beautiful Volkswagen, then we understand you can't trust just about anyone with your automobile. That's why you can count on us at Smitty's Auto Repair in Gainesville, FL.

Our technicians are certified and reliable professionals who are trained in the art of repair and maintenance. Whether it's oil change, transmission and brake repairs, or a simple checkup, you can trust us with your car.

You see, we're not ordinary repair and maintenance services. We pride ourselves in building a solid relationship with our clients. From one-stop services for both minor and major repairs, we've got you covered!

Our customer service representatives are more than happy to cater to all your needs and answer all your questions.
So what are you waiting for? Give us a call today and leave everything to us!

Call us today at

(352) 373-3060

for more information or to schedule an estimate for your auto repair. You can also send us an email for more information at Smitty@sasponline.com